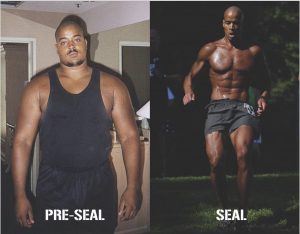 That's one of my alternate book titles for Navy SEAL Goggins' book.
Another is Read To The End.
If you've read his book you know what I mean.
The first two thirds of Goggins' book is about him transforming from 300 pounds into a SEAL and one of the world's best ultra athletes.
What's so powerful in this is, as I wrote about here, it was far from a natural evolution for Goggins.
He built himself into the man he needed to become.
Taking on hard goals, and doing what it took, regular David Goggins became Goggins.
Up until this point his story is about being hardcore, and persisting.
But then it takes a strange twist.
Goggins is struck down.
Not by a bullet, or hardcore ultra event, or his two heart surgeries, but by a mysterious illness that has his body shutting down.
He doesn't know what to do.
It's getting worse, and his doctors too are out of solutions.
But then Goggins stumbles onto a miracle cure—
Stretching!
As it turns out, for all those years being hardcore stretching his capabilities, Goggins hadn't been stretching his body.
And now his psoas was so tightly wound, it was strangling him like a snake around your belly.
That's why I suggest the alternative title of Read To The End.
Because if you just read the first parts of Goggins' book, you too might think driving hard goals is only about being hardcore.
When even as the most hardcore Goggins learns, to sustain top performance, you must be properly restoring.
Keep in mind, you can only push, push, push so far.
Especially now.
I'll still be writing less the next few weeks, and I hope you too find time to stretch this summer!