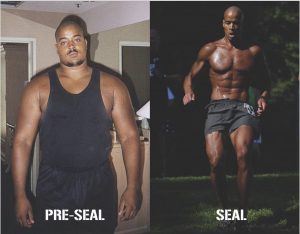 You see here a pre and post picture of retired Navy SEAL, David Goggins.
Pre SEAL, he's a big guy pushing 300 pounds.
Post, he's carved like David.
I won't go deep into his story which you want to read in his book.
Just a quick note to say…
He wasn't born this way
Goggins as he's known wasn't a born winner.
Wasn't a top athlete.
Didn't have a long history of accomplishment.
Was far from the guy you'd bet on to be an elite anything.
Just to qualify for SEAL training he had to drop a hundred pounds, which was an enormous feat for a guy who'd never been into exercise.
Working a, literally, dead-end job, with a dead-end future…
Goggins needed to first see this David inside of him.
And then do what it takes to forge himself this way.
He carved David with a calloused mind
In his own story Goggins doesn't flatter himself, nor romanticize it.
He doesn't talk about his calloused mind like it was something bestowed upon him.
Or all the things that he did to transform himself like it was some great accomplishment.
He merely talks about doing the work.
Making a choice that he'd no longer be that other way, and every day showing up harder.
As you see in his book, it was hardly a straight line from there.
He faced constant setbacks, yet he just kept getting harder.
Becoming this version of you
I know Goggins' story well because I've seen it over and over again.
In the many books I've read, clients I've worked with, and certainly for myself.
Anyone who has done anything extremely hard has had to find a harder version inside of you.
The caterpillar doesn't learn to fly, but transforms, and hard goals do the same for you.
Michelangelo imagining David inside that block of marble isn't enough.
What's required is every day bringing out this best version of you.
Who are you being?
If you look back on your week or even today, who do you see showing up?
Are you being pre or post?
The person who created that other life, or the one creating your most extraordinary life?
Who is the version of you that might be the 300 pound equivalent, flabby in body and mind?
With the habits of someone who looks and thinks that way?
And what about the you who shows up chiseled from stone?
Who is this you?
What aren't you capable of showing up this way?
The person forged like steel with an anvil shaping your body and mind?
Who storms through your goals like a Navy SEAL.
The switch
This, to me, my friend, is the crux of it.
It's not just knowing that you get to choose who you show up as.
But, how, specifically, you flick the switch.
You don't go from being the pre to the post overnight.
But every moment you're choosing which way you are thinking and acting.
How do you see yourself being the old way, and flick the switch?
What ways do you remind yourself to choose?
Do you put reminders in your calendar?
Pictures like the one above on your wall?
Do you get these texts from me that might help you flick the switch? (If you want in, text YESGB to 833-680-1291)
However you do it, how do you keep bringing out this best version of you?
btw, if you wanna go deep into carving out this harder you, check out the free video series for Harder, Better, Faster, Stronger.