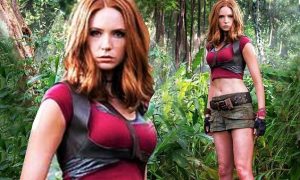 That's what she called herself—
Lame Jane.
I wouldn't have said it, but I love that she did.
Because it was incredibly helpful to no longer be that way.
"Do you want to be lame?"
I asked her.
"Of course I don't want to be lame, but it's just how I've been," she said.
And now, this is the turn.
I asked her one of the most powerful questions in unlocking all of your potential—
How do you want to be?
"Jane, Queen of The Jungle"
"Touche," I bellowed.
Why not?
If she feels that she's been showing up Lame, why not show up as Queen of The Jungle?
See, a friend had her call me because she's "Sucking as a leader," as she put it!
Now just from the language of hers that I'm sharing, you get a sense for the strength of this woman, right?
She's been looking at the performance of her business through this cycle.
And in particularly her performance as a leader, and calling herself out.
That takes a lot of character, which showed me exactly what to do.
She wanted to know what can she do?
But as you can see we ended up talking about who she wants to be.
Who does she want to be?
Like the Hulk article I re-sent you last week I keep coming back to this topic because I'm seeing a rosetta stone here.
For a long time I've been working with this idea of who you show up as.
And in nearly all of my top performance programs I cover Protocols for building your Role Models and Character.
Yet, I'm seeing something deeper here, like I wrote you with Maxwell Maltz, that I want to keep pressing on.
The reason is simple.
Because more or less I only care about one thing—
How do you as quickly as possible transform yourself and your life?
The butterfly is inside
See, my obsession has always been taking massive leaps in life.
I'm bored by anything else.
I have zero interest in setting little goals that get a little better every year.
Or making some small changes that make you a little better.
I only care about how you make massive transformational leaps, I'm obsessed with the secrets for doing it, and the reason I'm coming back to Lame Jane and Queen of The Jungle is because the not-secret is they are both inside.
Meaning, this woman looking at me on Zoom has been seeing herself as Lame Jane.
But I see straight through that Lame disguise to the unstoppable woman I see inside.
She's right there.
Like you can see the butterfly is inside the caterpillar, I know it's this natural to get her to transform.
"Have you seen Jumanji?"
She asked me.
I had not, but I went and watched it afterwards.
What's powerful in this movie is the notion of being trapped in a computer game where you take on a different character.
"I want to be more like her," she said to me.
See, there's a female character in the movie who is like a Jane Queen of The Jungle.
She's fearless, tough as nails, and a strong leader of her group.
"If you could grant me one wish," she said, "It would be for you to click your fingers and make me more like her."
"Easy," I said…
"Because there's nothing for me to do but show you the mirror."
"The Queen is inside of you"
See, this is what I'm trying to say here.
A coach she'd worked with for 2 years had been doing all that lame stuff like talking about confidence.
And they'd laid out a list of things that she needed to do better. Ugh…
But she was failing at it.
As I said to her, "Not because they were bad ideas, but because they failed to see they were talking to the wrong you!"
See, the lame version of you doesn't do powerful things!
To unleash all of your potential, you need to bring out this person inside of you like in the movie Limitless.
"She's right there inside," I told her.
We walked back in her mind through many times when the Queen had shown up and I pressed a button in her head for the Queen to show up more.
Of course I'm minimizing what I did with her, and playing around a bit.
But more or less, this is what I was "programming" her head to do—
Stop showing up as Lame Jane, use your Protocols (like a pro athlete has pre-game routines) to show up as the Queen of The Jungle, until Lame Jane never shows up again and the Queen is you.
Do you get where I'm coming from here?
That the things you want to achieve.
The actions you want to take.
There is a version of you that might be timid, or hold back, or less capable.
Maybe like Bruce Banner that version of you has been dominant.
Yet you also know that there is a far more powerful, capable person inside of you like the Hulk.
And rather than spending your life trying to get the feeble version of you to be the person who can smash your goals.
Instead, to make massive, fast leaps, focus on training your Hulk or Queen of The Jungle (or whoever your Character is) to keep showing up more.
btw, again, this is what the Harder, Better, Faster, Stronger free video series will help you do!