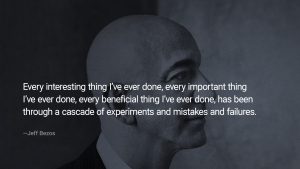 I stuck this image on my wall and thought I'd share it with you.
It's a powerful quote from Jeff Bezos that we used in the program on Rocketing To The Top Like Musk and Bezos.
You'll see what I mean by every ever—
Every interesting thing I've ever done, every important thing I've ever done, every beneficial thing I've ever done, has been through a cascade of experiments and mistakes and failures.
Every?
Ever?
Of course you never want to take these things entirely literally.
But there's most certainly a powerful signal here, isn't there?
What might this signal mean to you?