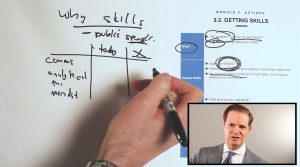 This is the most underdiscussed part of success.
And most common source of failure.
It's common to find people who work hard.
Grind it out.
Give everything you've got.
Hustle. Hustle. Hustle.
And every other platitude for going after it.
But, how good are they?
See, this is one of the things that we don't talk so much about.
Like people say "I've applied for 200 jobs and haven't heard anything back."
It seems rude to ask, "Well, how good is your method for applying?"
But for someone who's looking to keep getting better, it's the most obvious place to start.
How good are most of us at charging after our goals?
Good enough is typically the answer.
We have enough skill to get it done.
And that's often good enough.
But, does good enough get your goals done?
Even if you're far better than good enough, do you need more skill to drive the results you want?
I do.
For my goals I must keep getting better and better and better and…
What about you?
How good are you?
Again, it's not a question that many of us like to ask.
It can feel better to feel we're giving it our all, versus exposing ways we are not.
But, if you like to challenge yourself in these ways…
How good are you at driving your goals?
Objectively, out of 10, how do you score yourself relative to where you need or want to be?
What particular skills matter most to winning in this phase?
Again, out of 10, where do you rank?
How do you keep building your skills from here?
Not like hitting a golf ball
In golf it's obvious.
You can swing ten thousand billion times and never win if you lack any skill at hitting the ball.
The scorecard tells your current skill.
Then it's just a matter of decided whether you're good with those results.
Or how you keep getting better and better.
In some goals, like an Olympic athlete, it's a never-ending pursuit.
Even your better and better best might not be good enough to achieve your goals.
So you keep getting better and better maximizing your chances.
Get better upgrading skills
Yeah I get it…
Few of us want to admit we're not good enough!
Even fewer want to continually focus on building the skills you need for winning.
Yet, all of us focused on driving hard goals, must.
What skills must you keep upgrading to keep driving your goals?
How do you build them?
This we go deeper in this video: