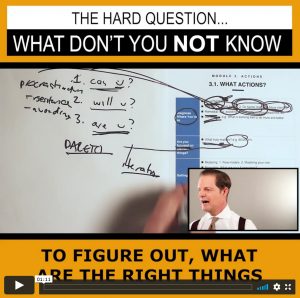 Ah, we're so close…
To finishing Upgrade YOU I mean.
But we're gonna save the rest for next year.
Coz I want to finish this year with some year-end topics.
With me and some clients, this has meant two things.
First, let's tie off the year.
What ways might you reflect, assess, key takeaways, etc?
So, no matter how it's been for you, you can feel good closing out this year.
Second is thinking ahead to next year.
Here we'll revisit some goal and bigger topics from Upgrade YOU too.
But for now, capping off Upgrade YOU, I'm sharing with you this short one minute video.
It's from the longer video you might have watched on upgrading your actions. 
And comes back to what I rant about as THE HARDEST topic on taking powerful actions—what to do when you don't know what they are!
More on this in the new year.
Happy holidays!