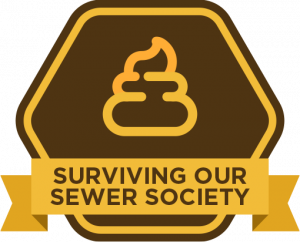 Well, it's that much of what our society shovels us, stinks.
Career advice. Life advice. Financial advice. Certainly, the crap our society shovels into our minds…
And, yes, of course I'm playing around a bit here. 🙂
There are so many amazing things about our modern lives…
Yet, I'm Also Deadly Serious
Many people are dying every day from opioid, obesity, and other "diseases" of the mind.
So many of us are dying of boredom in jobs we hate.
Financially, so many of us live in lack, even many rich people dying every day with insecurity.
What about our time?
How many of us feel we are living the time of our lives?
We Can Swim Free
We can set ourselves free of the Work, Financial, Time, and Mind Prisons.
Yet like Andy Dufresne it can take swimming through the sewers to get free…
Where do we discover the keys?
How do we navigate the sewer traps?
Not just to get free, but to unlock our greatest purpose and destiny.
Here's the 16min sample for the Masterclass on Surviving Our Sewer Society: