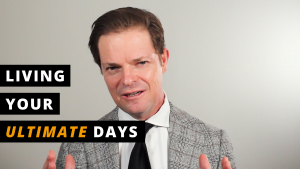 This situation has obviously thrown a spanner into our year.
Boom, crash, there go the goals you had for the year.
Or worse, many people are scrambling just figuring out how to get by.
What it means for our years is still a mess.
Yet, we've all seen what it's done to your days.
Has your daily routine gone to sh*t?
How's it looking for you?
For most of us it's gotten harder, hasn't it?
Getting up at a certain time, into that rhythm you used to have.
Having your setup, those things that would set the cadence of your day.
A clear set of tasks to get done.
And what about your mind?
How's all this had you thinking and feeling?
Optimizing your day starts here
Well, actually, all this for me started 10 years ago.
Leaving Wall Street to do this work I threw that proverbial spanner in my days.
Back then I had no idea just how hard all this would be.
Not just to do this job.
But without structure, to get yourself to sit down and get it done.
Getting unstuck
I was already good at time management.
A so-called expert on getting what you want.
Yet unable to think and feel how I wanted.
Stuck from taking the actions that I wanted.
I didn't know how to keep moving forward.
Lacking clear structure in your day can be very hard.
It's especially hard when you don't even know what to do to achieve your goals.
Let alone how to do it!
Nor having the accountability and other things that come with having a job.
I didn't know the answer, but I needed to build it!
Make the most of every day
That's where this notion of ultimate days came from.
I was doing what I wanted, but didn't feel it…
This led me to see no matter "when" you think you will feel amazing, you only have today!
The same with thinking.
We believe that when your life is all rosy you'll think and feel how you want.
Wrong.
You think and feel how you're conditioned.
This comes back to making the most of your mind every day.
Actions too.
Getting done what matters
None of us feel our best when we're avoiding tasks.
When you're thinking about the things you could or should or want to be doing, but can't get yourself to do.
We all know this, but changing it can be a mo'fo.
How do you get yourself to focus on what truly matters?
Get beyond the resistance that holds you back?
What does it take to get yourself bouncing out of bed excited for your day?
Tearing into those things that truly matter today?
Looking back on a day you absolutely crushed?
This is living your ultimate days
That no matter what is going on around you.
Even if the world has gone to sh*t.
And your day with it.
Well, that's what the System For Ultimate Days is built to do—
Get you feeling your best
Thinking your best
Taking your best actions
Right now, today.
And every day.
We've just finished up this free video program for Ultimate Days, which might be especially helpful to you right now for making this and every day ultimate!