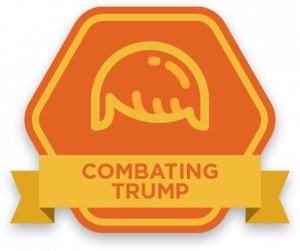 I like Kamala Harris.
She's a winner.
With a track record of serving.
And good values.
Lots going for her.
But her campaign is burned.
She Might Be Toast
Just take that slogan—
Kamala Harris For The People. 
When I saw it on a t-shirt I thought it was a home-made job.
Then I went to her website.
Nope, that's her slogan…
Not quite as bad as Jeb! or Make Herstory, but nor quite as good as Vote For Pedro.
And it only got worse.
Lead With Decency
Her website leads with a PC video and the headline—
"An America where leaders lead with decency."
What??
Who wrote that?
How about…
Lead With Winning
I don't get it.
It seems most the candidates want to lose.
Or they're too [insert word] to study how to win.
They hate Trump so much they've failed to learn how he won. (Watch me on CNBC here)
They love Obama, but they've learned nothing from his winning either.
No Hope. No Change. No Yes We Can
Obama was an amazing candidate.
Not being political here, but looking at how he won it's hard not to gush about the man.
His slogans.
Hope. Change. Yes We Can. 
Iconography, like that Hope poster.
His speeches. The way he used language to build a movement to take over the country.
What Didn't They Learn?
Everything.
Nothing.
If you can't even get a slogan right, what chance do you have of winning?
Here's 5 mins from the Combating Trump Masterclass on what they didn't learn from Obama:
P.S. You can listen to previously published tracks from this Masterclass here.