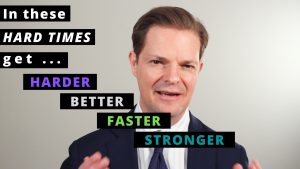 Definition: incapable of being subdued; unconquerable.
This was word of the day.
Love it.
Got me asking.
How are you indomitable?
In what ways are you this way?
Where in life have you been unconquerable?
When were you incapable of being subdued?
Why did it matter you being this way?
How can you be more indomitable now?
Fact is, we're headed into harder times.
So how might you want to be more indomitable?
Why be more unconquerable?
What more is possible for you?
Who are you being when you are impossible to subdue?
Being more indomitable, what will be different for you?
It's in you, isn't it?
It's in all of us, right?
Just it can take something or someone to bring this out of you.
Is this something now?
Is this someone you?
What might you do right now to be more indomitable?
One thing I've been doing is again listening to Harder, Better, Faster, Stronger, and I simply can't recommend this free program enough, perhaps especially video 1—HTFU!