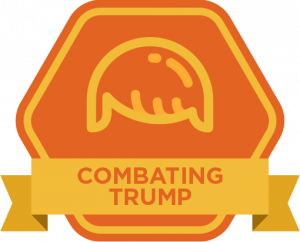 The polls have Biden beating Trump.
Warren is gaining fast.
Williamson has God in her corner but is counted to nine.
The rest mostly tapped out.
On Fight Night
The role of promoters is to build excitement for the big fight.
No matter Connor McGregor had zero chance of beating Floyd, you sell tickets talking up a fight.
The 2020 ratings season would be toast if it were obvious Trump has already won.
So now two dozen Dems have become two, the promoters must keep hyping the fight.
Polls show they beat him. Can they beat him? Will they beat him?
Sentiment shifting, this and that.
Last time around the polls had Trump beat…
All the way until he won.
In The War Of Words
The fight isn't won on the campaign trail.
Elections are quickly lost like Jeb when you get beaten down by Trump on that debate stage.
To be sure there's lots of things that stand in the way of Trump easily winning.
The economy.
His many detractors.
The left and right coasts.
And of course most of all, Trump being Trump.
But none of that matters when it's time to go toe-to-toe.
Let's Get Ready To Rumble
Jeb Bush had a massive war chest.
A political dynasty with two former presidents in his immediate family.
He was the assumed GOP nomination…
Until Trump easily wiped the floor with him.
It's not because Trump is a better or more experienced politician of course.
Or he's loved like Obama.
It's just, to beat Trump, all that matters is…
How Skilled Are You Stepping In The Ring?
When Royce Gracie stepped into the bare knuckled octagon…
Nobody thought the passive looking wiry Brazilian would beat the big bad fighters, until he was easily breaking their limbs.
An election is mass influence and verbal combat.
Even if Warren or Biden can massively influence to make it into the ring.
Unless they master skills of verbal combat Trump will again easily win.
Here's a few minutes from the Combating Trump Masterclass on combating Trump's verbal jiu-jitsu:
P.S. You can listen here to previously published tracks from this Masterclass.