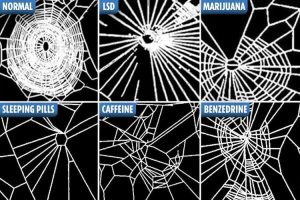 Do you know how coffee works?
How about what it does to spiders as you see on the chart above?
Of course most of us know how it works in you.
You drink it, feel more energized for some time, then it wears off like booze.
Or if you've habituated to it, perhaps you don't even get much buzz anymore, but you still habitually drink it.
So most of us know the effect, but do you know how it works in your brain?
And why it leads you to crash?
Caffeine gives you "not-energy"
What I mean by "not-energy" is knowing how caffeine tricks your brain.
Many of us want to know how to get more energy.
Yet, we're never taught the things that give and rob energy from you. (e.g. thinking steals tremendous energy)
Caffeine doesn't somehow stimulate more energy in you.
It merely mutes the natural chemical in your brain, adenosine, that accumulates between sleep cycles.
In effect, caffeine blocks the receptors in your brain from detecting this natural sleep agent, which fools you into thinking you have more energy.
That is until the caffeine wears off after its average half-life of 5-7 hours, and in one big rush your brain realizes how sleepy it really is.
This is the caffeine crash.
Caffeine crashes spiders too
As Matthew Walker writes in Why We Sleep—
Caffeine is not a food supplement. Rather, caffeine is the most widely used (and abused) psychoactive stimulant in the world. It is the second most traded commodity on the planet, after oil. The caffeine response is one of the longest and largest unsupervised drug studies ever conducted on the human race.
I included all that because I thought it was an interesting way to put it.
This drug that we perceive as "normal" has far more reaching impacts on your brain and sleep than you might imagine.
And as it turns out, has dramatic effects on spider web building, as the chart above shows.
Look at it for a moment.
A spider can spin a pretty good web on LSD, speed, and weed.
Yet give it a shot of caffeine and its web wouldn't catch a semi-truck!
How to get more energy
I'm not sharing this with you because of some anti-caffeine push.
Like most of you I imagine, I've dosed myself plenty with caffeine to make it through my lifetime.
Yet over the years as I've become far more focused on how to get more energy, I've more or less deleted caffeine.
This became important to me when I began to perceive that the way you think and feel is entirely driven by your energy.
Put simply—we are energetic machines.
Zero energy, and well, you're dead…
And too your emotional and mental energy is a by-product of your physical energy.
Spiritual energy too, which I won't go into here, has been a key part of this learning for me.
But where the rubber really hits the road for us in Doing What You Want is how to get more energy for your winning.
More energy, more better actions = more winning
It goes without saying that if you can put more energy into your goals you'll drive more winning.
No enough energy, and you'll simply fail to do those things that you want or need to do.
This too isn't just about having the energy to take actions, but the energy that you take them in.
As I go into detail in many of my Masterclasses focused on top performance, like a pro athlete getting game ready, you know that getting into the right state drives top performance.
For a pro boxer it might be the meanest, most ferocious state he can muster, but for you in a meeting high energy states like charisma and confidence might most drive your winning.
So the more you want to drive your goals, the more you want to know how to get more energy.
Of course there's lots of things that govern your energy.
And this is why I suggest in my nutcase way, you want a method like you see in my System For Ultimate Days.
How to get more energy?
Well, you can just go about it haphazardly.
Getting different levels of sleep here and there, eating, drinking whatever you feel.
Gulping caffeine when you feel your energy depleting…
Or, if you're serious about how to get more energy.
And hence have more energy for driving your winning and thinking and feeling more amazing every day.
Well…
I suggest that you build for yourself an Energy Management System.
What's In Your Energy Management System?
What most governs your energy every day—
Sleep.
Exercise.
Food.
Liquid.
Supplements.
Stimulants.
And what I'd say here is that as much as many would like to proclaim, there's no universal answer on what is right for you or me. (including caffeine, if you choose)
Instead, I suggest if you're serious about these topics and you want to get more energy, you want to build for yourself an Energy Management System for living your Ultimate Days!
To go deeper on this, you can get the Ultimate Days Masterclass here, or in this free video program listen to Track 2 on the Energy Management System.