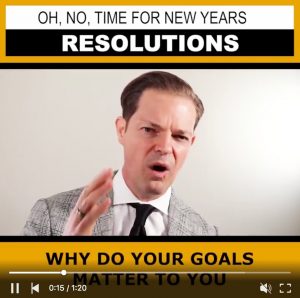 This week surely lots of resolutions will be made.
Few broken resolutions will be reflected upon.
Too few resolutions will be any more than resolutions.
80% will be dust by mid-February.
Do you know why resolutions REALLY fail?
I mean, REALLY?
It's not that we are weak or lazy or undisciplined.
The problem is the word "Resolution."
In some way it has come to have a different meaning to a "real" goal.
Ultimately, it's a type of goal that is socially acceptable to quit and fail at.
So we're never really committed to begin with.
I write 3 more reasons why in this post and discuss a little in this short one minute video.
Not meaning to send you off the page here, but I'm keeping it short.
In past years I've written longer on why New Year's Resolutions are stupid, and  this video on why they're still stupid.
But this year I'm making a resolution of my own. 🙂
And I'm starting early.
I, Geoff Blades, do solemnly resolve…
To ramble a whole lot less!
I haven't put a word limit on it yet, but I can't imagine writing any longer letters to you in 2021.
Less words more impact is my phrase.
And my target is one to two-thirds less words in every conversation, and the same in writing and videos.
That's a reason I'm keeping this tight.
btw, not saying resolutions are entirely stupid.
Just that if you are making resolutions, why not go all the way to setting real goals you're resolved to achieving?
If you want to go deeper into doing this I'd suggest these videos from Upgrade YOU:
How to Condition Your Goals (so they're not just resolutions but drilled into your brain)