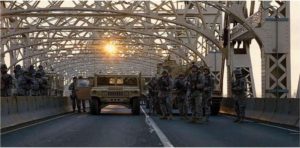 I'm pretty good in the mind.
Tens of thousands of hours researching these topics.
Hours a day of mental conditioning does this for you.
But I'm still human, and sometimes still need a bailout of my own thinking.
Fortunately I'm surrounded by pros
Some of them are experts in the mind.
Others are my friends and clients who I've helped over years on these topics…
Who can then help me back when my mind starts to run on.
Such as yesterday.
When Cuomo announced we were locking down New York.
Not concerned about the virus
One thing I may write more on is my greatest concern with this virus.
It's not the virus at all.
But the way we've responded.
The behavior of those we've entrusted to lead us through good and bad times.
I perceive our so-called leaders are making decisions that history will absolutely skewer them for.
Yet my more now concern was they are making decisions that put me and my family at risk.
Not Dark Knight Rises
My client keeps talking about Mad Max and Hunger Games.
He's well stocked up on guns and ammo for that reality, but he's still fearful it will come true.
My brain isn't so dramatic.
It merely went to Dark Knight Rises, seeing Manhattan locked down for months with the Army rolling the streets keeping social order.
Food shortages.
Mayhem.
Now, I won't say I think this will "really" happen, but that's not to say our brains don't run on these ways, do they?
Then I went for a run
It was a gorgeous day.
Tons of healthy people were out, running the park (socially distanced of course), and I came to see…
Hmm, how much of this disaster thinking gets fueled by our never-anything-good "news."
By the endless Hollywood "block-busters" we're fed on death and destruction.
And of course by our reptilian brain's fear / negativity bias that is always working overtime.
Before that I should say
I spoke to my client and asked him, do I get out of the city?
See, my problem is that my car is in Las Vegas, so I don't have wheels nor anywhere practical for us to go.
And he simply said to me, "Look, if I was calling you in this circumstance you would say to me…
"You're as prepared as you can be to hunker down, and really do you think it's going Dark Knight Rises or do you just hate that you can't control your destiny?"
And he's right.
That's my beef, it's that I can't control what they do to the city, and the best I can do is control what I do for me.
Truth is, I'm well prepared to hunker down for a long enough time.
And, if worst comes to worst, my bud said he'll send a SEAL team to get us.
Focus on what you can control
See the bigger problem so many of us face right now is that we aren't in control of this.
We have no clue what the powers that be will mandate on us.
No-one I know has any qualm whatsoever about locking themselves down for a while.
But many of us have concerns that those with so-called power over our rights have any plan for what this means.
2 weeks? 2 months? 2 years? Locking ourselves in our homes if any one person gets any virus any time in the future?
Yet, what choice do we have?
Many people we know are consumed in the awful news, reading about this like they're studying to become a virologist.
As though somehow they will figure out what this virus might mean for them and humanity.
We have no clue
You only know so much of this is outside of your control.
And yet the most important things are inside your control.
You can't control the way our so-called leaders and anyone else is responding to this.
Yet you can 100% control how you choose to think and the actions you choose to take.
Maybe that won't be enough to protect us from a virus or Dark Knight Rises lockdown or Mad Max Hunger Games outcome.
But we do know with certainty this is the best you can do.
And, also, surround yourself with people who can help you navigate your thinking on this as I'm lucky enough to do.
btw, here you can download the free limitless mind book if that's helpful to you.