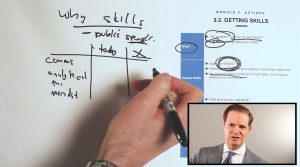 A buddy lost his restaurants in the lockdowns.
Well, actually, he's got some great properties that might come back.
"The question is, will the 'suits' come back?" he says.
The residential and office towers that fill his restaurants are still mostly empty.
He's started another business on the side.
"You've gotta find a way to win," he says.
I detest failure porn
That's the stuff like how failure is the most wonderful learning experience.
It's a loser's mentality.
As Vince Lombardi put it, "Show me a good loser, and I'll show you a loser."
Have you noticed that you only hear how great failure is from people who ultimately succeeded?
Failure is necessary and loveable feedback to keep getting better.
But that's a distant last compared to the feedback of your goal being crushed 🙂
Certainly life isn't about whether you win or lose.
Still that's different to what I'm talking about here.
People talking about how grateful they are for their failures.
What did they fail at?
When the bombers were flying
England was toast in World War II.
Years of weak diplomacy left them helpless relative to the might of Nazi Germany.
For years Churchill had been banished from polite society for gravely warning against Hitler.
But close to annihilation, desperate, they brought him back.
Appointing Churchill PM likely saved Britain.
Maybe losing the war would have been a wonderful learning experience for Britain's weak leaders.
For Churchill, failure was never an option.
What about your goals?
Look, honestly, I think I got a bit too serious here…
Because I could make it smaller and say—
If your goals matter to you, don't you want to do everything you can?
But what I'm saying here is, make it bigger.
That's the point of Upgrade YOU.
Your goals might not be Churchillian saving the world.
They might not even benefit the world.
But your goals deeply matter to your world, right?
So how much are you willing to fail?
Are you OK with those goals sliding by?
Or even if you're crushing it, falling short of the result you truly want?
For when you must find a way to win
Yeah, I know I got all arrrgghhh comparing failing at your goals to losing to the Nazi's.
But hopefully what came through is—
Wherever you are in your goals.
Whether you're flying high or your back is against the wall like my buddy and his restaurants.
If you must or merely want to…
How can you keep getting better to keep finding ways to win?
That's what we're doing in this video for upgrading your skills and actions.