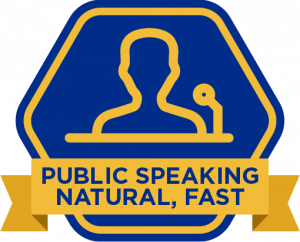 Why learn any other way?
Public speaking unnaturally SLOW, anyone?
If public speaking is a fear worse than death…
Slow Painful Death, Anyone?
How many years do people live with the fear of public speaking?
Fear all their way to the stage?
Terrifyingly "trying" to memorize their lines?
Walking up there hoping for the best, fearing the worst?
Or perhaps worse…
Avoiding public speaking altogether…
Or even worse…
Wasting years of their life doing their little Toastmasters, fake audience fake cheering them on?
How I Wish I'd Learned
A client said, "Experience is figuring out all the ways to do things wrong, to get them right."
The story of my life—years of doing stuff badly, figuring out how to do it better.
Reading books. Training public speaking.
Plenty of so-so speaking performances… including live TV.
All the while figuring out exactly how I wish I'd been trained.
Only For You, Great FAST
This Masterclass isn't for everyone.
It's only for people who want to feel perfectly natural speaking in public.
Who want to get great FAST.
And have a highly systematic method to get better and better over time.
Here's 3 mins. on how this\ works FAST for you: