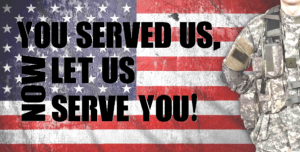 Grandad hunted Nazis for a living.
Hitler didn't give him a chance to do what he wanted.
He dropped behind enemy lines to save us from a monster.
We can never repay our debts to the greatest generations, but we can do more for veterans today.
Veterans Have Lives Ahead
When I was a kid veterans were the tough old war dogs who could still make it to the annual parade.
War felt like pageantry.
I never knew Grandad, or anyone in the military. It felt like looking back to a brutal world left behind.
Today I see veterans all around, many a generation younger than me, with young families and lives ahead.
At best war leaves scars, and many veterans struggle to get their lives back on track.
Some have troubled minds. Others need guidance in getting a job, building a business, or otherwise righting the ship.
I used to want to help.
Veterans Don't Want "Help"
No veteran I've met wants help.
They are strong women, and men's men.
Warriors.
Who put their life on the line for the rest of us.
The last thing they want is "help," but they often appreciate support in helping themselves.
Government Can Only Do So Much
It's easy to say that our government doesn't do enough for veterans, but how much can they do?
Government is good at many things, but getting people's lives on track after they come out of the military isn't one of them.
There are thousands of great organizations like the Honor Foundation that supports SEALs in transitioning back, yet they can only do so much.
Plenty of companies like Goldman Sachs go out of their way to support veterans, yet each of us can give something more.
Our Time
Pro-bono I advise a couple of veteran-run businesses.
We're building a business with retired SEALs that, if we can get up and running, will enable many veterans to plug into our platform.
I heal wounded warrior minds when given the chance, and I want to do more.
It's good to give money, but the greater gift we can give others is our time.
Most people reading this are highly educated, successful, career leaders and business builders.
What you know is priceless to veterans, and just a little of your time would go a long way.
If you can find the time, reach out and serve a veteran today.