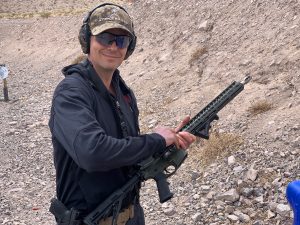 I'm wary of writing this.
There's nothing I despise more than violence and I seek to be a pacifist.
But I keep getting asked about guns and I feel it's important to share some of my perspective.
Yes, it is a more lawless time and you might feel you want to protect yourself and your family better.
Sadly, I know many people in California who I was once afraid to even tell that I shoot, who now feel unsafe and are arming themselves.
It is absolutely true that a firearm can be an excellent way to protect you and your family.
But there's a few things I always point out to people that I feel is important to share.
I'm NO expert
All I know about firearms I've learned from years of training with Navy SEALs, as I wrote about here.
Back when I first started shooting I had no idea what I was getting into.
Like perhaps many people I thought of rigidly standing on a line, looking down the sights and trying your best to accurately put a hole in a paper target.
This is of course a crucial part of training to shoot safely and accurately.
But it's the least relevant part of protecting yourself and your family with a firearm.
It's like standing rigidly at the free throw line in basketball sinking hoops.
The real craft of basketball is everything that you do on the court, and the same is true with gunfighting.
"Gunfighting"
This was the phrase the SEALs starting using with me in the first minutes we met, before I had any clue what I was in for.
Even just strapping on a holster with magazine pouches seemed extreme to me.
Only hours later they had me running left and right firing off the line.
Drawing from the holster.
Seeking cover.
Doing combat reloads—rapid reloads you must make in the middle of a firefight.
Tactical reloads, which you're doing in safety to best prepare for the fight.
Shooting from different firing positions, as you see below—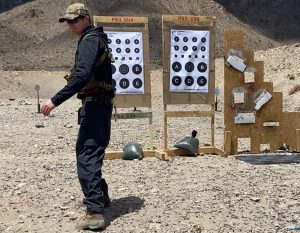 Developing situational awareness of the battlefield.
Rapidly alternating between pistol and rifle, which you see me setting up my trusty AR in the photo at the top.
After, we added the shotgun you see below—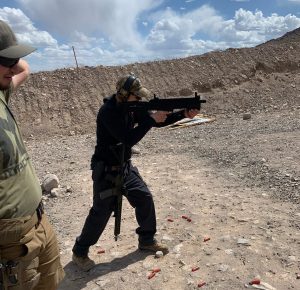 And we went "home"
At the facility I train there's a shoot house, which is a structure you use to train clearing a house of villains.
As I wrote about in this article it shouldn't have surprised me that this is where we were headed because I had sought out SEALs to shoot like John Wick.
If you're looking to protect yourself and your family with a firearm at home, this is your "battlefield."
Some people imagine hearing a sound at night, grabbing that pistol from the fancy safe next to their bed, and going hunting bad guys.
That's a terribly dangerous strategy.
Even a Navy SEAL would avoid this strategy, unless you're certain you have a tactical advantage.
One service we offered in the business we started with SEALs some years ago—that unfortunately we failed to get moving fast enough—was teaching people how to protect themselves and their family in a way that Navy SEALs couldn't even breach.
Rather than walking around in your PJs exposing yourself to dangerous criminals, you want a strategy for safely barricading you and your family.
You are their defense
In a worst-case scenario, if you get taken out, who is left to protect your family?
You must know that a rule of hand-to-hand combat with a gun involved is that gun will go off.
Meaning, if you attack someone who is carrying a firearm.
Or if you are attacked with one in hand, you must assume bullets are flying.
And someone is likely getting shot.
An exercise I did training knife fighting was to role play with sharpie markers.
The learning in this simulated knife fight is that you have as much of your own marker on your arms as you've marked the enemy.
Point being—bringing a weapon into a dangerous situation can make it more dangerous.
In brutal honesty, this is why the most dangerous people I know do it empty hand, without weapons. (which is also the best you can do if you live in cities like New York where only violent criminals are allowed guns)
NOT a solution
See the point I'm making here is that a gun ISN'T a solution to protecting you and your family.
And as I've said, it may in fact escalate the problem.
That said, the SEALs I know would tell you that a gun is the absolute best way to protect yourself and your family.
But.
And it's a HUGE but.
ONLY if you're highly skilled in the use of the weapon.
AND, even moreso.
That you've trained yourself to ACTUALLY use it in these dangerous situations.
See, one of the things they were doing by getting me moving and shooting before I was even proficient with the weapon systems was introducing "controlled chaos" into the training situation.
Because in those moments if you ever need to protect yourself and your family, this is how it will be.
Adrenaline will be dumping through your system.
Any skill you think you have from rigidly standing shooting a target will be irrelevant.
And even the basics can get you killed.
e.g. Stovepipes
The most dangerous aspect of protecting yourself and your family with a gun is a malfunction.
It's the most dangerous because by the time you suffer a malfunction you're directly engaged with the threat.
A malfunction means that you pull the trigger and… nothing happens.
Even though modern pistols are extremely reliable, just a poor pistol grip can create a malfunction.
If it's too loose, for instance, you introduce instability into the slide mechanism which heightens the risk of a jam.
Worst-case scenario you end up with a stovepipe, which means a cartridge jamming and sticking out of the ejection port.
It can be extremely hard to RAPIDLY clear these malfunctions unless you've trained for it.
And it's especially hard in the heat of the moment you're facing a threat.
Myriad failures like this can make a dangerous situation far more deadly.
Train right
Our world glorifies violence.
Actual violence is far more disgusting than our media and entertainment industry CELEBRATES, let alone if you're the one doing it to another person.
If you're imagining dealing with serious threats, you must be prepared for it.
A reason many people fail at public speaking is because they train when they're feeling confident.
Then you get up in front of an audience and all that confidence is gone along with what you had tried to remember.
This notion of state-dependent learning is the same with protecting yourself and your family.
Even if you are an excellent shot of targets, or even highly skilled at tactical shooting, it's IRRELEVANT if in that dangerous situation you lose your mind.
Yes, it is true that in this more lawless time you cannot rely on the police to protect you and your family.
Fortunately the misguided are no longer rioting to defund the police, yet in basically all cases they will take way too long to arrive.
And it's on you to best protect you and your family.
This ISN'T possible just because you own a gun, but because you're highly skilled in how you use it in the face of dangerous threats.